HKS, HIPERMAX Touring Spring Kit A90 SUPRA
HKS already developed performance parts for latest of TOYOTA GR SUPRA keeping in mind the concept of total performance. HKS suspension makes it possible to adjusted vehicle height and lower by -45mm maximum compared to stock suspension. It combines the ability to withstand extreme driving and offers a comfortable ride feeling with a sporty lowdown look. Testing was performed on a touge like circuit Gunma Cycling Center also know as Gunsai, with Japanese racing driver Manabu Orido.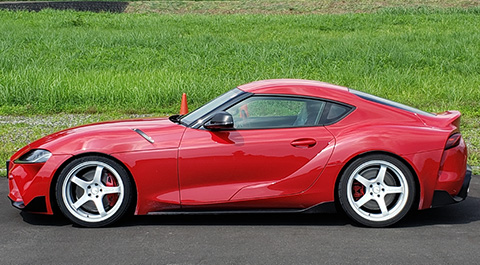 Recently, a lot of high performance cars feature electronic control of damping force adjustment. HKS assumed it would be best to keep stock electronic control system but add an additional flexibility and offers a height adjustable spring. HKS height adjustable springs kits are a great alternative to conventional springs. With included high adjuster it is possible to select different height suiting your car and enjoy more sporty ride.
Vehicle
Model
Engine
Year
Spring Rate
N/mm
(kgf/mm)
Free Length
(mm)
Vehicle Height
(Highest – Lowest)
(mm)
Vehicle height
during test
(mm)
Upper
Mount
Code No.
Remarks
GR SUPRA
DB42
B58
19/5-
F=43(4.3)
R=117(11.9)
Specially-developed
F=-25(-25 – -48)
R=-20(-20 – -53)
F=-25
R=-20
F=Stock
R=Stock
80280-AT001
* Front bump rubber needs processing.
* Packers are used when setting the front height to 24 mm or more.
* Spring Rate F/R: 42.6/116.8(N/mm), Height: F=-25 to -45 R=0 to -50 (mm)
Not fit Grade "SZ".